DADA                    School improvements in Bansoa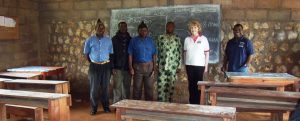 In 1999, Children's Fund began providing grants to a group of local residents in Bansoa to improve the education of the children in their community. In 2001, Children's Fund provided funding for such projects as a well so students would have drinking water at school. We have also continued to replace school roofs. About 350 children have benefited from these school improvements. Children's Fund continued to provide direct grants through 2011. Children's Fund direct grants were the sole funding source for this project.
 AMEIBANS        School improvements in Djottin
In English-speaking Djottin, in the western area of Cameroon  Children's Fund provifded grants to purchase desks and other scholl supplies.  In 2011, we helped establish libraries and sent books and other instructional materials.